Microsoft SharePoint is a web-based collaboration platform with extensive capabilities. SharePoint is included with the vast majority of Microsoft 365 licenses starting from the Business Basic edition at only £3.80/month/user which also includes Email, Microsoft Office Online and Microsoft Teams.  
With SharePoint already at the fingertips of most businesses using Microsoft 365, utilising it for file sharing, collaboration and presenting information is a no brainer for many organisations. Labyrinth have built SharePoint systems ranging from a single page and file repository to a comprehensive collection of sites with built-in automation, integrations and document management features for hundreds of users.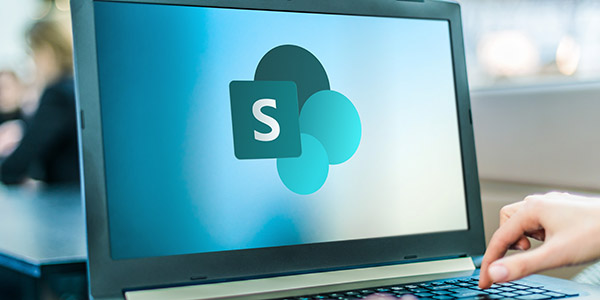 SharePoint has extensive integration opportunities with Microsoft 365 applications such as Microsoft Office, Microsoft Teams, Microsoft Project and Exchange. With the possibility of creating Microsoft Office 365 groups to seamlessly manage access to Microsoft Teams and SharePoint, and the ability to access the same files between the two applications; Microsoft Teams is the most common SharePoint integration that we implement.  
SharePoint is built for businesses of all sizes and can be as simple or extensive as you need to meet your requirements. It is also extremely scalable and easy to update.   
Click here for information on our SharePoint consultancy services.  
Collaboration
The 'File locked for editing' message is a thing of the past! Users can all work on Microsoft Office files at the same time, seeing changes made by other users in real time






Multiplatform Support
Users will be able to access SharePoint content from multiple platforms including Windows, Mac, iOS and Android. Content can also be accessed through different apps such as web browsers, Microsoft Teams and the SharePoint mobile app



Security
With authentication fully integrated with Microsoft 365/Azure Active Directory, central management of permissions is easy. Permissions and security settings are extremely granular and two-factor authentication can be enabled through Microsoft 365


Document Management Capabilities
SharePoint features many document management capabilities such as version control, approval workflows, managed metadata and document IDs (which is particularly useful for ISO 27001)


Cost Effective
Microsoft SharePoint Online is included with most Microsoft 365 subscriptions. With a fixed monthly cost per user typically bundled in with other services, you know exactly what your monthly operational costs will be as you scale up or down your business. Costs are not based on how many SharePoint sites you have

Easy to manage
Once SharePoint has been properly designed, built and trained out to your team, updating content is easy









Highly Customisable
SharePoint can be tailored to meet the needs of any business. Whether you need one site, multiple sites, or custom applications developing – SharePoint is extremely flexible and saleable




Get in touch
Begin your seamless IT journey
Our approachable staff will use plain English and not confuse you with technical jargon. We will never make you sign a long contract and we guarantee to respond within an agreed timeframe. And we will never oversell and will always work on the principle of 'best advice'.